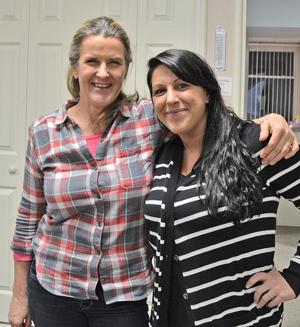 For the past year, each Tuesday night at 6:30 at the John Wesley United Methodist Church on Gifford Street pregnant and new mothers struggling with opiate addiction have come to talk about how to manage being new mothers with their recovery at the Mothers Helping Mothers group.
"This is my mommy group," said Jaime L. Lundberg, who started with the group last February.
She has two young sons, a 2-year-old and 8-month-old, whom she brings with her. In the next room, there is free childcare for the attendees. Some women have their babies in the room with them when they meet.
Just like other mothers' groups the women talk about the challenges of motherhood, taking care of children, changing diapers and making meals, all while sleep-deprived. These women, however, have an added challenge of managing their addiction and recovery. Over 70 women have frequented the group since it began last February.
"Being a mom and a recovering addict is different," Ms. Lundberg said, who has been in recovery for over a year. "They always say put your recovery first, but if you have children you can't just put your kid on the shelf."
The group, co-facilitated by Deborah A. Heavilin and Danielle K. Sawyer, both years into their own recovery, began last year by the Substance Abuse in Pregnancy Task Force, formed to address the growing numbers of women coming to hospitals in labor with opiates in their system.
Ms. Heavilin, who has worked at a recovery house and Dr. Jean E. Talbert, a local obstetrician/gynecologist, recently started the nonprofit Mothers and Infants Recovery Network, Inc. that will continue to run these groups; another one meets in Hyannis at The Federated Church of Hyannis on Mondays at 5:30 PM. The nonprofit also will be raising funds to open a transitional recovery home specifically for new mothers in the future.
Ms. Heavilin said that 26 out of 1,000 women who deliver in Falmouth have had opiate exposure during pregnancy compared to the commonwealth's average of 17.5/1,000 which three times that of the national average, 5/1,000.
Using opiates during pregnancy can result in complications, Ms. Heavilin said; she worked as an ob-gyn medical doctor before her own addiction problems. Mostly because women feel guilty about their drug use, they do not seek prenatal care.
"When you get pregnant, it doesn't change the addiction in your head; that's why women go into hiding," Ms. Heavilin said.
However, stopping opiate use abruptly in pregnancy, without help, can have consequences as well, such as losing the baby, so withdrawal must be managed with drug assistance.
Balancing this recovery with a chance of relapse during postpartum, when depression can occur naturally, is often a topic at meetings.
Six women attended the group last week. About half were current residents of Emerson House, while the rest came from the community.
The first woman who spoke introduced herself as a heroin addict. She said that she started using at age 13 and had been in treatment multiple times and jail.
"I would have had 18 months (sober), but I relapsed two weeks ago," she said. "I am really struggling now."
She described a physical fight she had with her boyfriend while their infant lay on the bed crying.
"What do you think about going into in-patient?" Ms. Heavilin said.
The woman said she does not want to get the shot. Opiate addiction can be managed with Subutex, given initially, and Suboxone, for management, a partial opiate that reduces the cravings, as well as Vivitrol, an anti-opiate that blocks the opiate receptors, or methadone for more difficult cases.
The woman said the shot (Subutex) makes her feel sick, so she was hesitant to take it again.
"It is almost impossible to detox by yourself," Ms. Heavilin said.
Women who deliver on opiates risk having their babies taken away at delivery.
Another woman at the group was waiting to be reunited with her infant daughter for two months. She said that she used drugs three or four times during her pregnancy and relapsed after delivery. Department of Children and Families (DCF), the agency charged to prevent child abuse, became involved, and she was sent to Emerson House.
Her baby is living with her parents and was supposed to join her at the house at the end of last month, but because of the snowstorms the DCF offices have been closed, and her case has not been addressed.
"It is driving me absolutely crazy. I have been there (Emerson House) for two months," she said. "I am just waiting for DCF to say go ahead."
The discussion turned to the guilt associated with using while pregnant.
Another woman introduced herself as a heroin addict. She started using when she was 14. When she became pregnant she tried, but could not get clean.
When her baby was born, he had to detox for six days. He was born prematurely at three pounds because of placental abruption, caused by her drug use.
Babies in the womb exposed to a lot of opiates can become dependent on them as well. Fortunately, after they detox, there are no long-term effects like those associated with fetal alcohol syndrome, Ms. Heavilin said.
"The second I saw his face, it changed my life," she said. "I don't want to use. I want to be the best mother."
She spoke about the guilt she feels, which the other women also have experienced.
"It's my fault, I beat myself up about it," she said. "This is the first time I have shared this."
The women talked about how they do not like to share their experiences at other groups, even at Emerson House. They say others in recovery judge women who used when they were pregnant.
The woman who just shared has been on methadone and clean in the Emerson House for 30 days and is set to leave there soon.
Ms. Heavilin and Ms. Sawyer encouraged her to stay in treatment longer.
"The longer you stay in up front, the better; it's an investment. It's hard to be a mother out there," Ms. Heavilin said.
In a separate conversation Ms. Heavilin talked about how there can be underlying issues that lead people to drug use. Detox addresses the physical aspects of addiction, but counseling helps with other influences, such as depression or trauma.
Another woman in the group who is pregnant talked about how she cannot share at Emerson House because there is a sliding wooden door which they close during group.
"I feel trapped," she said. "I was chained to a bed once." Read more…