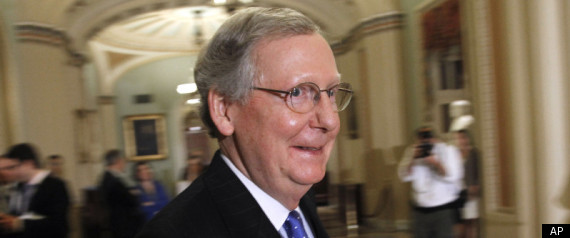 WASHINGTON — Senate Minority Leader Mitch McConnell (R-Ky.) told a constituent in favor of legalizing marijuana that he doesn't support the idea because drugs like pot lead to death.
In a Feb. 14 letter to his constituent, McConnell said he has "serious concerns" about legalizing marijuana for medicinal purposes, a topic that the constituent had written to him about. He pointed out that the main ingredient in marijuana, tetrahydrocannabinol, is already available in pill form for the treatment of certain illnesses.
He is also "troubled" by the fact that many legalization proposals would make marijuana available to the public "without following the scientific processes" of the Food and Drug Administration, McConnell said.
McConnell then cites a medical marijuana bill introduced by Rep. Barney Frank (D-Mass.) and raises concerns about what could happen if it became law — death.
"Because of the harm that substances like marijuana and other narcotics pose to our society, I have concerns about this legislation. The detrimental effects of drugs have been well documented: short-term memory loss, loss of core motor functions, heightened risk of lung disease, and even death," McConnell wrote.
McConnell spokesman Don Stewart said McConnell was just making the case that drugs in general have detrimental effects.
"Everyone from the Obama administration on down agrees that drug use has had serious consequences, including deaths. The letter makes that clear," Stewart said.
The constituent who corresponded with McConnell posted the letter on a counterculture blog, grasscity.com, and wrote a response to what McConnell had to say:
"Hi Blades, got a letter back from Mitch McConnell about legalizing marijuana. I'll let the letter speak for itself. WOWZA."