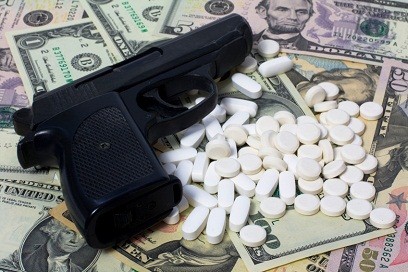 In Phoenix, two men tied up pharmacy employees while another stole painkillers.
On New Year's Eve in 2011, an armed robber demanding Oxycontin and money at a Long Island, N.Y., pharmacy encountered an off-duty Bureau of Alcohol, Tobacco, Firearms and Explosives agent and two police officers as he was leaving. He and the ATF agent were killed.
Law enforcement say that armed robbers looking for prescription drugs are turning some neighborhood pharmacies into danger zones.
At another Long Island pharmacy, an addict in search of drugs for his wife fatally shot four people, including a 17-year-old clerk days from her high school graduation, in June 2011. He then left with a backpack full of prescription painkillers. He was sentenced to life in prison.
Since 2006, 82 Percent Rise in Robberies
Since 2006, there has been an 82 percent rise in pharmacy robberies — from 385 in 2006 to 701 in 2011 — and 3,535 pharmacies have been hit.
Police say the surge is being fueled by the nation's prescription drug abuse epidemic. According to the Centers for Disease Control and Prevention, there were 14,800 prescription painkiller deaths.
Law enforcement says the robbers are typically drug dealers who know they can make huge profits — up to $80 a pill — on the street. But some of the thieves are simply desperate addicts.
In the summer of 2011, the bass player for the rock group Coheed and Cambria was accused of robbing a Massachusetts Walgreens pharmacy of Oxycontin. He allegedly threatened to detonate a bomb. He reportedly headed back to the band's concert venue with bottles of pills.
Bruce Goodarzi, a Rockville, Md., pharmacist, said the robbers who'd broken into his store twice in one month were after painkillers like Oxycontin or Vicodin.
"We're talking about thousands of the pills," he told ABC News. "They are going right to the drug cabinet."
Pharmacies are beefing up their security systems — adding watchdogs and guards — and also storing drugs in safes. Goodarzi said he built a steel cage to protect the painkillers.
Others are refusing to stock the medications or getting guns to protect themselves in the hopes that potential criminals pass them by.