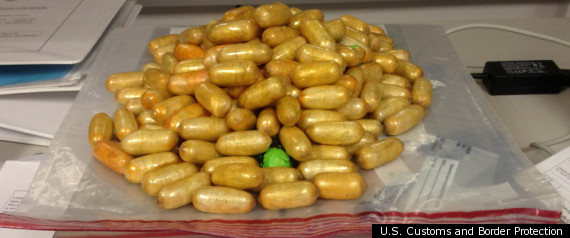 Want to get noticed for a rock-solid stomach? Try ingesting almost five pounds of heroin pellets.
During a patdown, customs agents spotted a Nigerian woman at a D.C.-area airport on March 14 who had what was described as an "abnormally rigid" stomach, by U.S. Custom and Border Protection officials.
Security personel working at Washington Dulles International Airport became more suspicious of 52-year-old Bola Adebisi when she gave vague answers about her destination, according to authorities
That led to a brief, forced stay in a nearby hospital where an X-ray allegedly revealed that 180 drug-filled pellets gave her the firm tummy.
Adebisi was hospitalized until she passed all the drugs, which weighed in at 4 pounds, 12 ounces — touted as the largest bellyful of drugs found in the D.C.-area.
Customs officials put the street value of the drugs at $180,000.
This seizure crushes the previous record, set by in 2011 when Yomade Aborishade, 46, of Lagos, Nigeria expelled 100 pellets with a combined weight slightly over four pounds.
"The amount of pellets and heroin this woman ingested is incredible, a serious health risk, and very troubling if these numbers become the new normal," CBP Port Director for the Port of Washington, D.C. Christopher Hess said in a press release. "We're hopeful that this arrest sends a strong signal that CBP officers are proving to be successful at detecting internal concealment methods, and that we remain committed to working with our law enforcement partners and intercepting this deadly poison before it can reach our communities."
Adebisi faces criminal charges.