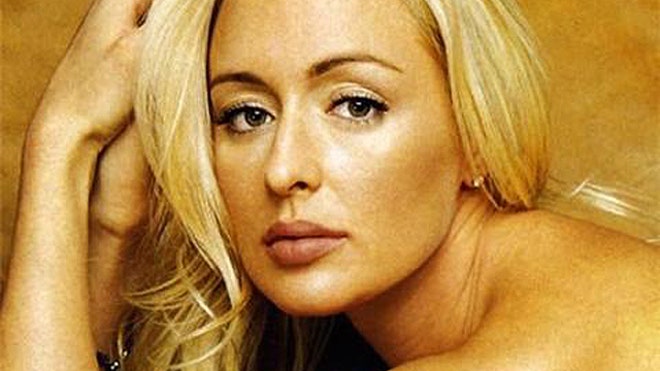 Mindy McCready, who hit the top of the country charts before personal problems sidetracked her career, has died. She was 37.
Waren Olmstead, the coroner in Cleburne County, Ark., said in a statement McCready died Sunday apparently of a single, self-inflicted gunshot wound. An autopsy is pending.
McCready's rep said the singer's friends were planning a memorial for her.

"To complement formal family arrangements, preliminary plans are being made by Mindy's 'friends in music' to organize a memorial in Nashville in the coming days," Kat Atwood said in a statement sent to FOX 411.
Just last month David Wilson, McCready's boyfriend and the father of her 9-month-old son Zayne, was found dead on the same porch where McCready's body was found. His death also was investigated as a suicide.
McCready entered court-ordered rehab earlier this month after her father told a judge she was no longer taking care of herself or her children and was abusing drugs and alcohol. Her sons were put in foster care at the time, but it's not clear where Zander and Zayne were at the time of McCready's suicide.
Wilson's passing struck McCready hard. She issued a statement last month lamenting his death. She called him her soulmate and a caregiver to her sons in an interview with NBC's "Today." She said she'd never gone through anything as painful as his passing.
"I just keep telling myself that the more suffering that I go through, the greater character I`ll have," she said, according to a transcript of the interview.
News of McCready's death spread quickly Sunday night on Twitter with major country stars paying their respects to Nashville's onetime darling.
"Too much tragedy to overcome. R.I.P Mindy McCready," wrote Natalie Maines of The Dixie Chicks.
And Jason Aldean added: "Just heard about Mindy McCready. My thoughts and prayers are with her 2 boys and her family."
Melinda Gayle McCready arrived in Nashville in 1994 still in her teens with tapes of her karaoke vocals and earned a recording contract with BNA Records.
In 1996, her "Guys Do It All the Time" hit No. 1 and its dig at male chauvinism endeared her to females. Her other hits included "Ten Thousand Angels," also in 1996, and her album by that title sold 2 million copies.
She would spend the next 15 years chasing another hit as personal problems began plaguing her in 2004. Her problems would include a custody battle with her mother over one of her sons, an overdose and discord in her love life.
McCready took her older son Zander from her mother and the boy's legal guardian, Gayle Inge, in late 2011. She fled to Arkansas without permission over what she called child abuse fears. Authorities eventually found McCready hiding in a residence without permission and took the boy into custody.
In May 2010, she was hospitalized briefly after police responded to an overdose call at a home in North Fort Myers, Fla., owned by her mother. This followed a stint on "Celebrity Rehab With Dr. Drew," where she declared herself clean from drugs. She is the fifth celebrity appearing on that show to have died.
In 2004, she was charged with obtaining the painkiller OxyContin fraudulently at a pharmacy. She pleaded guilty and was placed on three years' probation.
She violated the probation with a drunken driving arrest in May 2005. A few days after that arrest, she was beaten and her boyfriend at the time was charged with attempted criminal homicide. Then she attempted suicide in July 2005, overdosed in September 2005 and slit her wrists again in December 2008.
Also that year, McCready was charged in Arizona with hindering prosecution and unlawful use of transportation. Those charges stemmed from an alleged attempt in June 2005 to purchase two high performance boats, but she claimed she was trying to stop a con man.
In July 2007, she was arrested in her hometown of Fort Myers, Fla., on misdemeanor charges of scratching her mother on the face during a scuffle and resisting sheriff's deputies.
She made headlines again in April 2008 when she acknowledged a longtime relationship with baseball great Roger Clemens. Published reports at the time said she met the pitcher at a Florida karaoke bar when she was 15 and he was 28 and married.
In June 2008, McCready was arrested and charged with violating her probation, specifically falsifying her community service records relating to the 2004 drug charge. A month later, she entered an extended care facility for undisclosed treatment, and followed that with a 60-day jail sentence in the Williamson County jail.
Growing up in Fort Myers, she took seven years of private vocal lessons and later sang in karaoke bars.
After getting her recording contract, she did concert appearances with top country stars including George Strait, Tim McGraw and Alan Jackson.
Her other singles included "Maybe He'll Notice Her Now," "A Girl's Gotta Do (What a Girl's Gotta Do)" and "You'll Never Know."
In 1998, she was engaged to actor Dean Cain, but they never married. Article Link…