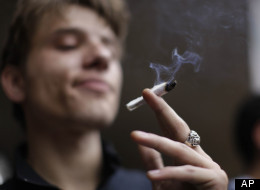 A bill that would set a marijuana blood standard for drivers–similar to that of current blood alcohol standards–took a big step toward approval on Tuesday when it passed 18-17 in the Colorado Senate.
The Associated Press reports that a single vote change from Sen. Nancy Spence (R-Centennial), who voted in favor of the bill, gave SB 12-117 the support it needed to pass.
Spence had voted with opponents of the bill in 2011, but said that she is convinced that a standard for legal impairment is needed in Colorado. "I'm just sick of the abuse that the state of Colorado has taken from the medical marijuana industry," Spence said.
If passed, drivers under the influence of marijuana would be considered impaired and unfit to be driving if their blood contains 5 nanograms or more of THC per millimeter of whole blood.
The bill's sponsor, Sen. Steve King (R-Grand Junction) has taken a hard line, and arguably fear mongering, stance against stoned driving with this bill. "We are well on our way to a doped-driving epidemic that will match the DUI epidemic that we had 15 and 20 years ago," King said, according to 7News. King went on to say that legal medical marijuana has made people think that stoned driving is acceptable.
But are drivers measurably impaired while under the influence of marijuana like they clearly are when under the influence of alcohol? That has been one of the core questions opponents of the bill have been asking since it was first introduced.Westword spoke to Attorney Leonard Frieling who described he clear correlation between blood alcohol level and driving impairment — the higher the blood alcohol level, the more impaired drivers are. But he questions the correlation between marijuana blood levels and driving impairment saying to Westword, "that appears not to hold true as cleanly with cannabis. So talking about impaired driving is one thing, but trying to give a number a meaning it doesn't have is something else entirely."
Both Republicans and Democrats tried to stand up against the bill, but to no avail. Sen. Pat Steadman (D-Denver) spoke out about the issues that make marijuana blood limits problematic like the fact that THC is fat-soluable, so blood limits could remain above the 5 nanogram limit for days after the user last legally smoked pot, CBS4 reports. The user would not appear stoned, but legally they could still be considered impaired. With this thinking in mind, Steadman tried and failed to exempt medical marijuana patients in the bill.
This fact of THC's different effect on the body than alcohol's was stunningly shown last year by Westword pot reporter William Breathes. After a night of sleep and not smoking pot for 15 hours, a sober Breathes still tested nearly three times higher than the proposed legal limit.
The bill also created some confusion and debate amongst legislators since allowing any amount of THC in a driver's blood stream is illegal under federal law again underlining again the vastly different point of view the feds and the state have about marijuana. The U.S. Attorney's office in Colorado has been cracking down on dozens of medical marijuana shops in Colorado since early in 2012, despite both Republicanand Democrat support of ending marijuana prohibition entirely in Colorado — voters will get to voice their opinion of legalization of marijuana in the state on this year's November ballot.
The bill now faces one more vote in the Senate and is expected to pass. It will then go to the house where the 5 nanogram legal limit was overwhelmingly approved last year 51-14.