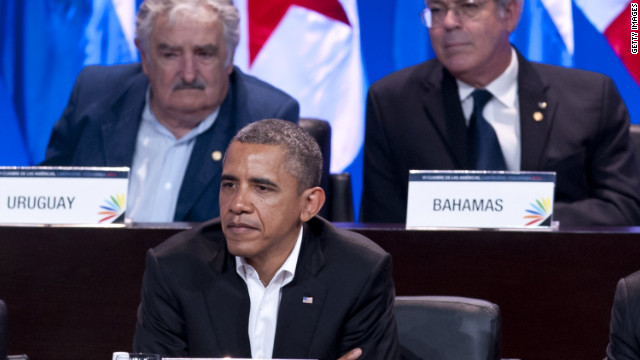 A free trade agreement between the United States and Colombia is set to take effect next month, leaders of both countries said Sunday at the Summit of the Americas in Colombia.
The United States and Colombia agreed to the pact last year, but implementation was contingent on Colombia taking a series of steps to improve workers' rights.
At a joint news conference in Cartagena with President Barack Obama, Colombian President Juan Manuel Santos cheered the deal as a 20-year dream come true.
"This will create thousands, millions of jobs in the United States and Colombia," he said.
Under the deal, which will go into effect May 15, more than 80% of U.S. exports of consumer and industrial products to Colombia will become duty free, as will more than half of U.S. exports of agricultural commodities. Most Colombian goods are already sold duty free in the United States.
The two presidents were in the northern coastal city of Cartagena, where regional leaders were unable to come to consensus over two of the most controversial topics hanging over this weekend's summit: drug legalization and whether or not Cuba should be allowed to participate in the regional meeting.
But Santos stressed that the meeting was a success, even though all 33 heads of state in the Western Hemisphere didn't agree to his push to include Cuba in the group's next meeting.
"Nobody thought there was going to be a decision coming out of this conference. But there was a debate for the first time. A majority of countries expressed their opinion. … This has an important political weight. This had not been seen before," he told reporters.
Cuba, which is not a member of the Organization of American States, was not invited to join the leaders at this weekend's conference. But there was a last-minute push by Ecuador's leftist President Rafael Correa to get Cuban leader Raul Castro a seat at the table.
Correa boycotted the summit because of Cuba's exclusion.
Santos, a key U.S. ally, said in his opening remarks Saturday that it was time to overcome such issues — calling it unthinkable if Cuba is not part of the next Summit of the Americas.
On Sunday, he said a majority of countries at the summit agreed, but did not specify which countries had supported his proposal.
A statement on Argentina's official presidential website noted that regional leaders were unable to come to a consensus on Cuba at the summit "because of the veto exercised by the United States."
Obama addressed the touchy topic at the Sunday news conference.
"As Cuba looks at what's happening in countries like Colombia and Brazil and Chile and throughout the region, they're going to start saying to themselves, 'Maybe there's a new path to take in the 21st century.' And when that happens, they're going to have a welcome hand extended by the United States of America," Obama said.
National Security Council spokesman Tommy Vietor was even more direct.
"We have been clear that we look forward to a democratic Cuba's participation in the Summit process. Sadly that day hasn't come," he said.
But Santos said the absence of an agreement on Cuba didn't mean the meeting was a failure.
"This should start a series of bridges … that allow us hopefully within three years to have Cuba at the next summit," he said.
Santos also said discussions over the fight against organized crime were successful.
"The debate began, which I think is a very important step. Before, there were problems, there were issues that nobody wanted to put on the table," he said. "(This time) all the issues were put on the table and all the issues were debated. Before this wasn't done."
The Organization of American States will lead a study of the region's approach to fighting organized crime, he said.
"We agreed in the necessity to analyze the results of the current policy that we are applying in the Americas and explore new focuses to strengthen this fight and make it more effective," Santos said.
The war on drugs drew some of the sharpest distinctions among leaders at the two-day gathering.
On Saturday, leaders debated how to address drug trafficking and violence in the hemisphere, with several calling for new approaches — something Obama said he was open to, though he closed the door on legalization.
Santos compared continuing the existing policies to address this issue to being on "a stationary bike" — making little progress, despite ample effort.
"I think the time has come to simply analyze if what we are doing is the best we could be doing, or if we can find an alternative that would be more effective and less costly to society," he said. "This is a topic of extreme political sensitivity."
Santos added, "One extreme can be to put all users in prison. On the other extreme, legalization. In the middle there may be more practical policies, such as decriminalizing consumption but putting all the efforts into interdiction."
The possibility of drug legalization has gained traction in Central America, which is being squeezed between suppliers to the south and consumers to the north.
Yet the idea goes against decades of the prohibitionist policy backed by the United States, which is largely followed and enforced in Latin America and the Caribbean.
Obama voiced his view that legalizing drugs isn't a valid option in the United States twice on Saturday — first during a meeting of business leaders alongside Brazilian President Dilma Rousseff and Santos and later during the event's opening day session.
"I think it is entirely legitimate to have a conversation about whether the laws in place are doing more harm than good in certain places," he said at the meeting of business leaders. "I personally, and my administration's position is, that legalization is not the answer."
He reiterated that position while talking at the summit itself, saying "the United States will not be going in this direction."
Nations in the Americas — including the United States — have "mutual responsibilities" to tackle the issue, Obama said. To that end, he announced an increase to more than $130 million of funds dedicated to bolstering security and going after narco-traffickers and "gangs" in the region.