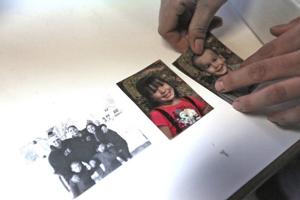 TRAVERSE CITY — Alicia Paquin squeezes the phone receiver tight against her ear.
"Jingle bells, jingle bells, jingle all the way," her eyes well with silent tears as she hears her children sing on the other end of the line. Her daughter, 4, and son, 3, have been talking about Christmas since November.
"Mommy, we want you home now," the voices plead through the phone.
Paquin, 26, knows she won't be home in time for Christmas this year. She won't get to watch her children fight off sleep on Christmas Eve to try and catch a glimpse of Santa Claus, or see them wake up and race to find what is waiting for them under the decorated tree.
Paquin instead will spend the Christmas holiday at a transition house, missing her children, grieving for her late husband and treating her alcohol addiction. Her somber face is pained with guilt, her once-bright smile a rare sighting these days.
"I cry all the time, but it's healing tears. I feel a lot stronger than when I first got here," she said at Phoenix Hall, a recovery home in Traverse City. "I need to take care of myself so I can take care of my kids."
Two years ago Paquin was exactly where she wanted to be. She was healthy, living in Baraga with her husband and two children, studying criminal justice and Native American studies at Northern Michigan University and doing community outreach as the college's Native American Student Association president.
But when her marriage started to fall apart, everything went south. Paquin has struggled with alcohol addiction since she was 16, and she started drinking again to numb her pain.
"It was a whole year-long process where I was hitting rock bottom," she said. "My final bottom was my drunk driving, and I was like, 'I can't do this anymore.'"
She was arrested in July for her third drunken driving offense and received word of her husband's suicide on her second day in Grand Traverse County's jail. She was incarcerated during her husband's memorial and remained in jail for the next four months until she was admitted to a recovery program through Addiction Treatment Services.
"It is hard. I just spent my first Thanksgiving without my husband and my kids," Paquin said. "The traditions that I've been used to, they're no longer there."
Across town Kurtis Bartholomew spent his Thanksgiving feeling isolated, trying to reflect.
The Lake City native, 28, spent most of the year in the Missaukee County jail after he was caught forging checks from family members to pay for narcotics.
He's finishing his jail sentence first at Dakoske Hall, a residential treatment home in Traverse City, and then at a transition house in Cadillac.
It wasn't the first time he had betrayed his family's trust; he'd been abusing opiates on-and-off for the last 10 years. But none of that ever mattered during the holidays. On those days he'd leave his baggage at the door and enjoy time with his family.
"On Thanksgiving and Christmas you have this connection where everybody puts everything off to the side and you actually get to have a day where you have a family," Bartholomew said at Dakoske Hall. "So when you're in here, you lose another one of those days."
Bartholomew said it took losing everything for him to finally want to get clean. He guessed he has missed at least four major holidays with his family over the years as he floated between jail, rehab and home.
He's determined to not miss another holiday; something about this stint in treatment feels like it will stick. His goal to get healthy and mend his broken relationships, especially with his son, 6.
"Every day for a kid is like Christmas," Bartholomew said. "There's something in that child's day that is new and he learns from, and when you miss those moments, it's hard not to regret not having them or not being the one to teach him how to do that or share those life experiences with him."
Paquin also is determined not to return to the life she led when she got behind the wheel while drunk.
This year she's trying to make Christmas as joyous as possible for her children. She wants to have them over to bake cookies for Santa, and she plans to give them scrap books and an ornament in memory of their father.
But most importantly, Paquin wants to lay the groundwork for new holiday traditions with her family.
"Sober traditions," she said, letting herself smile. Article Link…