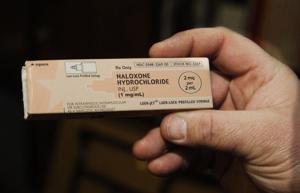 Massachusetts must start responding to a growing plague of opioid abuse by treating it as a medical disease, according to a task force assembled by Gov. Charlie Baker.
Baker said a tide of opioid deaths that has taken 6,600 lives in the state over the past decade calls for new initiatives in prevention, education, treatment and recovery.
Local police chiefs, some of whom have already launched campaigns to help addicts recover, say they recognize the need to treat drug addiction as something more than just a law enforcement problem. Baker, in announcing the task force's recommendations, said Monday he expects the recommendations to cost about $27 million in new state funding.
"We've had significant success through our problem-oriented policing program making follow up visits to addicts, encouraging them to get into programs and in some cases helping them find jobs," said Attleboro Police Chief Kyle Heagney, whose department launched its revamped anti-addiction program in 2014.
Heagney said the program, which emphasizes help over handcuffs for offenders seeking to break the grip of opioid drugs, is increasingly being sought out by families of addicts for help in getting loved ones into recovery programs.
Seekonk Police Chief Craig Mace said it is important to look at all aspects of fighting addiction.
"Treatment is so important," he said. "It's not a guarantee, but it's a first step."
Throwing all available weapons at the addiction problem makes sense, he said.
North Attleboro Police Chief John Reilly said outside-the-box methods can be effective tools for fighting addiction and has had his own officers following up with addicts in an attempt to steer them toward recovery.
Foxboro Police Chief Ed O'Leary called opioid addiction a "public health crisis" and said multiple approaches to fight addiction are necessary to have an impact against illegal drug use.
"Over the past decade, more than 6,600 members of our community have died because of opioids, and behind those deaths are thousands of hospital stays, emergency department visits and unquantifiable human suffering inflicted upon individuals, families and our communities," the task force said in an overview of its report.
Baker began a Statehouse news briefing on the report by introducing Janis McGrory of Harwich, who lost her 23-year-old daughter, Liz, to an accidental heroin overdose in 2011. McGrory is featured in one of several public service TV announcements that recently began airing in the state.
Baker said he expected the overall task force plan to require about $27 million in new state funding to implement.
"The solution to eradicating opioids is not a one-size-fits-all approach, and will require all of us to rethink the way we treat addiction," the governor said in a statement.
Since opioid addiction often begins with the abuse of prescription painkillers, the task force's recommendations include strengthening the state's prescription-monitoring program and requiring education in safe prescribing practices. It also calls for appointing addiction specialists to state boards that oversee doctors, nurses, physician assistants and dentists.
The task force, which was chaired by Secretary of Health and Human Services Marylou Sudders and included Attorney General Maura Healey, seeks a change in the state's civil commitment law that would allow a person with a substance abuse problem to be taken, involuntarily if necessary for assessment.
"We are not going to arrest or incarcerate our way out of this," said Healey, who along with Baker noted the opiate crisis was affecting families in all corners of the state, urban and rural, and regardless of income.
Sudders said addiction must be treated as a chronic medical disease no different than diabetes, heart disease or others.
The report also calls on the Legislature to make the anti-overdose drug naloxone more affordable for first responders through bulk purchasing programs.
It would require opioid education prevention programs in public schools and during mandatory student athletic meetings. Baker noted evidence that many young athletes become addicted to painkillers after sports injuries.
The report said 100 new treatment beds are needed by July 2016 and calls for an increase in the number of office-based opioid treatment programs in community health centers. Another recommendation calls for partnering with a major pharmacy for a drug take-back program that would allow people to return unused painkiller medication. Article Link…