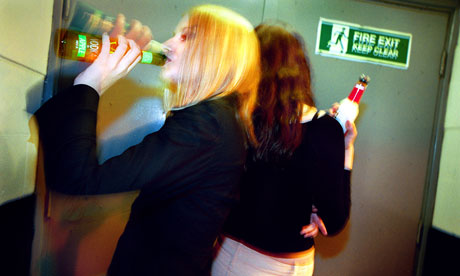 There has been a huge increase in the number of young adults treated in hospital for serious liver problems brought on by drinking too much, NHS figures show.
The biggest increase in hospital admissions for alcohol-related liver disease has been seen in 25 to 29-year-olds. In 2002-03 a total of 182 men and 100 women in England were treated for it, but by 2009-10 those figures had risen to 291 and 188, up by 60% and 88% respectively.
Similarly, the number of 30 to 34-year-old men went up from 558 to 873 (56%), while for women it rose from 310 to 522 (68%), confirming what doctors warn is an alarming trend of a rising incidence of the conditions among younger people.
The numbers for 15 to 19-year-olds were much smaller, up from four to eight.
Dr Chris Record, a liver specialist at Newcastle University said alcoholic liver disease used to be rare in young adults but had increased as drinking habits had changed, and was likely to worsen.
"The earlier the age at which children drink, and the more they drink, the greater the chance of developing serious liver disease in adult life. Many patients are now presenting with terminal liver disease in their late 20s and early 30s", he said. The number of young people having their lives ruined by alcohol meant the legal age for consuming alcohol may need to rise from five to 15, Record added.
Analysis of official NHS Hospital Episode Statistics data by Balance, an NHS and police-funded alcohol research and campaign group based in Newcastle, showed that the north-east had experienced by far the biggest leap in such patients. The number of 25 to 29-year-old men admitted rose over the period studied from seven to 41 (486%), while among 30 to 34-year-olds there were big rises among both men, up from 23 to 130 (465%), and women, up 14 to 56 (300%).