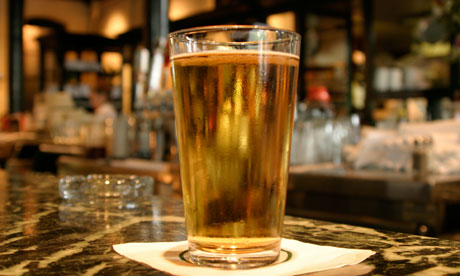 Heavy drinking is a major cause of a 25% increase in deaths from liver disease in England in under a decade, according to the government's specialist NHS unit on terminal care.
The first report from the fledgling National End of Life Care Intelligence Network warns that the victims of liver disease are getting younger, with deaths increasing among people in their forties. Deaths rose from 9,231 in 2001 to 11,575 in 2009; some 60% of these were men, and 90% of them were under 70.
Deaths are more common in England's northern regions marked by high unemployment and low educational achievement.
The findings were described as making stark reading by Martin Lombard,the NHS's national clinical director for liver disease. They are certain to increase calls for stronger measures against binge drinking and for awareness of the results of unhealthy living. "The key drivers for increasing numbers of deaths from liver disease are all preventable –alcohol, obesity, hepatitis C and hepatitis B," Lombard said. "We must focus our efforts and tackle this problem sooner rather than later."
The figures for causes of death between 2001 and 2009 show a general decline in other major causes, such as heart disease, but the report acknowledged that cancer and vascular and respiratory conditions were still the big killers. However, more than one in 10 deaths among people in their forties followed a liver condition, and its place in the medical league table of "years of life lost" is high: 37% of liver disease deaths for people in their forties were alcohol related, split 41% for men and 30% for women.
Alcohol was a much greater factor for deaths in deprived areas, judged by the national ward index of social deprivation: 44% of deaths were from liver disease in areas at the bottom of the table, 28% in those at the top. Terminal liver disease is very demanding of NHS resources, with two-thirds of those affected dying in hospital, compared with an average of 55% for other conditions.
The report, Deaths from Liver Disease – Implications for End of Life Care in England, showed that the north-west region had the highest liver disease death rate – 24 per 100,000, with 11.4 from alcohol complications. It was followed by the north-east with 21.9 and 10.1. The east of England had the lowest rate, 12.9 and 4.9, followed by the south-west, 14.3 and 6.4, and the south-east,14.8 and 5.8.
The British Liver Trust called for higher alcohol prices, taxing of high fat food, and testing for viral hepatitis, and said: "The current nature of the disease means that people are diagnosed late in their condition. This exposes the inadequacies in our healthcare in identifying patients early and also the lack of will to invest in prevention strategies that will have a serious impact, such as alcohol pricing, taxing high fat foods and testing for viral hepatitis."
The report's lead author, Julia Verne, said it represented the first summary of key facts, on which future discussions could be built. "It is crucial that commissioners and providers of health and social care services know the prevalence of liver disease in their local areas."
Claire Henry, director of the National End of Life Care Programme, said: "Clinicians caring for people with liver disease need to be having conversations with them about end of life care. This is exceptionally challenging for those with liver disease, who are often younger, come from ethnically diverse or deprived backgrounds, and may feel stigma associated with the disease. It is additionally complicated for those dying of alcohol-related liver disease, who may also have mental health or drug dependence problems, and little family or social support.
"These factors make good communication about end of life care so important."
The Department of Health said: "These figures are a stark reminder of the preventable damage that eating too much and drinking too much alcohol can do.
"Urgent action is needed to halt this trend. Our upcoming liver strategy will set out our plans on this issue, drawing on our plans to tackle problem drinking and obesity."